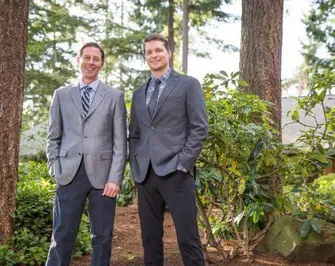 Lee and Van Mieghem DDS
Family Dentists located in Lynnwood, WA
Lee and Van Mieghem DDS offers preventive, restorative, and cosmetic dental procedures for patients of all ages. Located in the beautiful Edmonds-Lynnwood, Washington, area of the Pacific Northwest, Dr. Stephen R. Lee and Dr. Joseph Van Mieghem lead the practice.
With beautiful surroundings, the quiet sound of a waterfall, and the peaceful feeling of being at a spa, Lee and Van Mieghem DDS is a place where patients can relax and feel comfortable. The entire team is committed to creating an environment where you get the highest quality care and the individualized attention you deserve.
From routine cleanings and teeth whitening to root canals and bridges, the practice offers a full range of services that support your long-term dental health.
Both Dr. Lee and Dr. Van Mieghem also are committed to learning and utilizing the latest dental technology, which gives you more options and allows you to make the best possible decisions about your oral health.